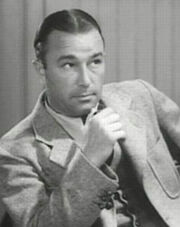 Robert Armstrong is an American actor who is most known for playing as the character Carl Denham in King Kong (1933). A few months later Robert starred in the sequal to King Kong, Son of Kong. He was born in Saginaw Michigan in the year 1890. He was originally studing to be a lawyer but left it. He also wrote a few plays which soon led to Robert's appearence in one of them. In 1928, Robert's film career started when he appeared in the film The Main Event. In 1949 Robert appeared as a Carl-like character in the film Mighty Joe Young. A film with an ape that resembles Kong. On April 20, 1973, Robert Armstrong died of cancer in Santa Monica, California. He and the King Kong co-producer Merian C. Cooper, died within sixteen hours of each other.
Ad blocker interference detected!
Wikia is a free-to-use site that makes money from advertising. We have a modified experience for viewers using ad blockers

Wikia is not accessible if you've made further modifications. Remove the custom ad blocker rule(s) and the page will load as expected.