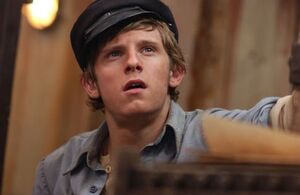 Jimmy is a sailor aboard Carl Denham's cruise. In the original film Jimmy is played by an unknown and uncredited actor. Jimmy is a rather minor character in this film. He dosen't appear until a bit after Ann Darrow was sacrificed to The Natives's god, King Kong. He is one of the members who goes on the adventure to save Ann. Jimmy was decided to carry Carl's gas-bombs. We  can hear Jimmy's name at least eight times  He dies after Kong throws the log down with him as the only salior left  alive while cliging on to a branch. he screams "HELP! HELP! HELP!" while kong his bicking up the log.   He is crushed when the log hits the bottom of the pit.
Ad blocker interference detected!
Wikia is a free-to-use site that makes money from advertising. We have a modified experience for viewers using ad blockers

Wikia is not accessible if you've made further modifications. Remove the custom ad blocker rule(s) and the page will load as expected.