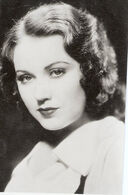 Fay Wray is an actress from the King Kong (1933) film. She played the character of Ann Darrow. She was born September 15, 1907 in Cardston, Alberta, Canada. Her first role in a movie was in the 1923 short, Gasoline Love. She would also appear in other noteable films such as The Most Dangerous Game, Mystery of the Wax Museum, and The Vampire Bat. In total, she was an actress in 117 films. May was married three times, the first being to the writer John Monk Saunders, the second being another writer, Robert Riskin, and the last to Dr. Sanford Rothenberg. She died August 8, 2004, in New York City, New York. Two days after her death, the lights of the Empire State Building were turned off in memory of Fay.
Ad blocker interference detected!
Wikia is a free-to-use site that makes money from advertising. We have a modified experience for viewers using ad blockers

Wikia is not accessible if you've made further modifications. Remove the custom ad blocker rule(s) and the page will load as expected.